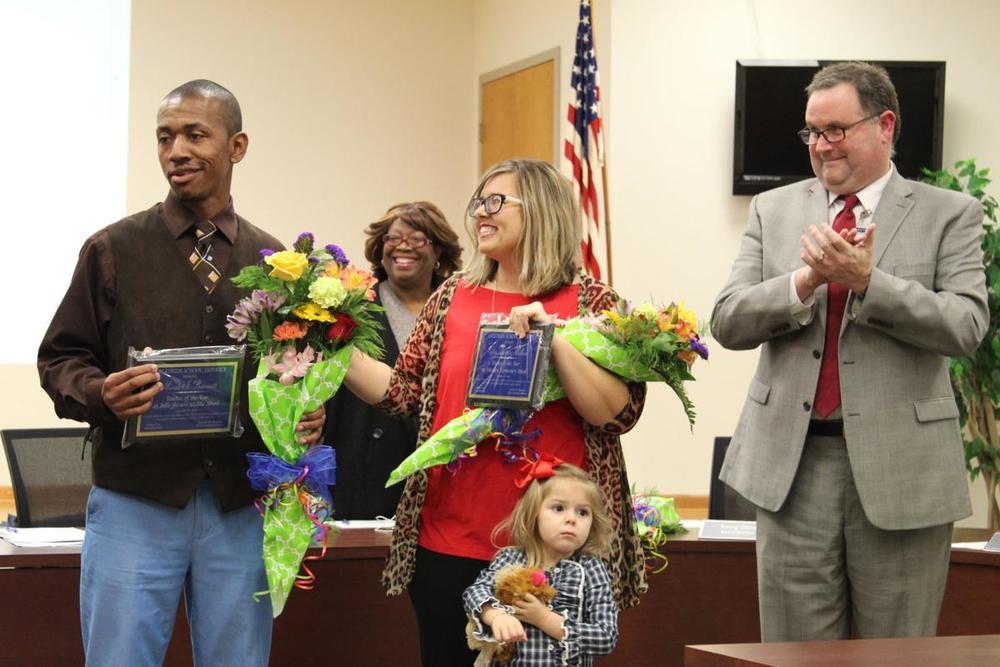 Aberdeen School Board recognizes teachers, administrator of the year
By RAY VAN DUSEN Monroe Journal
Monday, January 07, 2019
ABERDEEN – Dec. 17's Aberdeen School Board meeting carried a celebratory feel as each school's teacher of the year and the district administrator of the year were announced.
As for teachers, Erin Walker was named Aberdeen Elementary School Teacher of the Year, Micah Burnett was named Belle-Shivers Middle School Teacher of the Year, and Elisabeth Oliver was named Aberdeen High School Teacher of the Year.
Burnett was chosen as district teacher of the year.
"Thank you to all the teachers and administrators I've had over the years. I'm from Aberdeen. I'm a local boy. I had chances to go other places but I always wanted to give back because I had a great education here. I know for a fact I'm living proof if you get a high-quality education, you can go anywhere, be successful, know you belong and make a difference," he said.
He is now in the running for Mississippi's teacher of the year.
Belle-Shivers Middle School Principal Karen Howard was named as district administrator of the year. District superintendent Jeff Clay said Howard's leadership style sparked higher morale, which played a role in the school's accreditation rating increasing.
"I'm so happy to represent Aberdeen. Like Mr. Burnett, I'm a local girl. I love Aberdeen," she said. "We are making Aberdeen a better place. Because I have a teacher of the year, you know Belle-Shivers rocks."
School board member Dwight McComb was recognized for his time serving on the school board, as it was his last meeting to serve.
"I've been in Aberdeen since 1966. This is probably my last stint as far as doing something for Aberdeen," he said of serving a role. "I'll always be here. I appreciate the support of the parents, teachers and co-workers. I'm leaving but I'll be around if you ever need anything," he said.
Capital improvements and updates
During regular business of the meeting, Clay gave an update on a capital improvements plan for buildings in the district. During its November meeting, the school board approved a letter of intent to borrow as much as $750,000.
"We'll probably wait until March or April to secure the funds because the first payment will be due one year from the date we secure funds. If we get the money now, we'll have to pay it one year from the date. Traditionally, our large ad valorem collection is in February," Clay said.
He said the district will begin the process of securing an architect and expects to present a report during the January school board meeting. Clay added he expects work to begin as soon as school dismisses for summer vacation.
In recapping junior ACT scores, Clay said the composite average decreased by four-tenths of a point compared to last year. Scores increased in math, decreased in English and remained relatively the same in reading and science reasoning.
For the student average daily attendance report, the district average was 93.95 percent for the previous month. He said sickness played a factor and added the district communicates with families and students about attending.