Reminder: Students must be accompanied by an adult at games. Students cannot be dropped off.
Progress reports go home today!!!
BSMS will kick off its football season Monday at Amory. Tickets will only be available on Go Fan.
If you have not registered your child for the 2022'-23' school year, You will be able to register at the Belle or Shivers' offices on Monday, August 8th through Wednesday, August 10th between the hours of 10am-2pm.
Wednesday, August 3rd is the last day for football tryouts! Come out and show what you've got!
🎉BSMS Cheer Camp🎉 WHEN: Monday, July 25th - Thursday, July 28th TIME: 8:00 am - 12:00pm WHERE: Shivers Gym WHO: 7th & 8th grade current cheerleaders **Mandatory for the cheer team** 🌀Wear comfortable clothes 🌀Bring water bottle 🌀Come excited and ready to have fun!!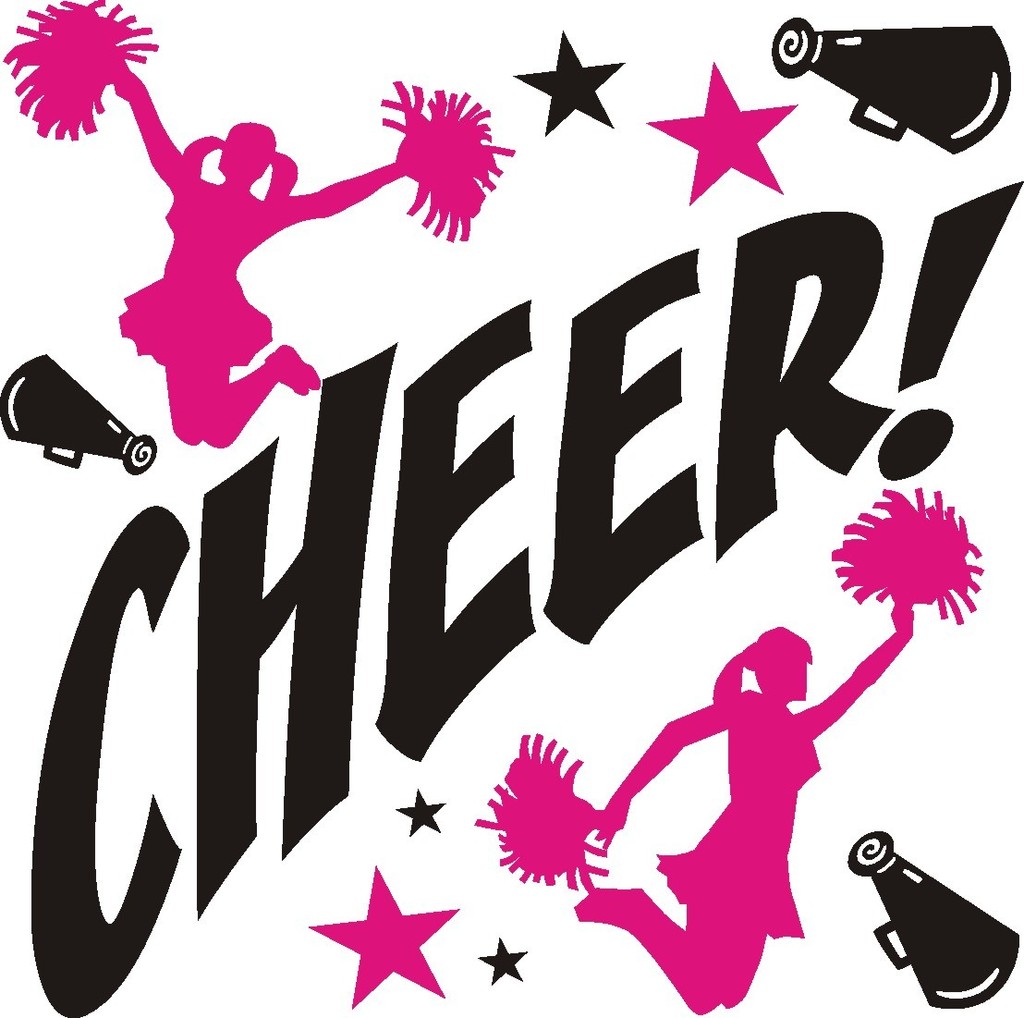 Good morning, BSMS parents. Online Registration for the 2022-2023 ends Thursday, June 30, 2022. You will need to create a new ActiveParent account as the current accounts will be removed prior to registration. All of your children can be tied to the one Active Parent account. Enjoy your summer and we look forward to a dynamic year! Please make a note of these days and times if assistance is needed at the school. BSMS Wednesday 2 - 4 pm Thursday 9am-2pm
Good afternoon, BSMS parents. In the upcoming 22-23 school year, all incoming seventh-grade students must have a Tdap immunization shot for school. Please ensure your child has received the shot by July 31st and submit it to the Shivers Office.

Good morning BSMS Parents: Report card pick up will resume today from 9 a.m. - 2 p.m. Please come to the Shivers main office- North Franklin St. entrance. Thank you.

ATTN BSMS PARENTS: Girls basketball tryouts will be held on Thursday, June 2nd: 6th grade at 1 p.m. 7th grade at 2 p.m. Tryouts will be held at Aberdeen High School. Please contact Coach Fair if you have any questions or concerns.

ATTN BSMS Parents: Girls Basketball tryouts are cancelled due to inclement weather.

Good Evening BSMS Parents: Belle Shivers Middle School Awards Day Ceremony May 23, 2022 4th grade 8:00-9:00 5th grade 9:30-10:30 6th grade 12:00-1:00 7th grade 1:30-2:30 We are asking students to dress to impress for Awards Day. The 8th Grade Completion Ceremony is May 25th at 10 a.m. Tickets are required for entry. May 26th is last day of school and Report Card pick up. Please make sure your child had returned all textbooks and library books.

ATTN BSMS Parents: BSMS students will be allowed to dress down Friday, May 20th for Fun Day. Please be sure your student(s) adheres to the following: •No holes in jeans/skin exposed •No slides/shoes without a strap on the back •No bandanas •Shorts should be the appropriate length •No see-through clothing, body suits, biker shorts or leggings. Failure to comply will result in parent contact or parent care. Thank you in advance for your cooperation.

Good morning BSMS Parents: This is a reminder that the uniform policy is still required for students at BSMS. We have 9 more days of school and unless there is a notification from the school, all students should wear uniform shirts and pants. Remember cell phones are not allowed to be visible or used during the school day at BSMS. Please help us make the next 9 days as smooth as possible by ensuring your child continues to follow school rules and procedures. Thank you for your cooperation in this matter.

ATTN BSMS PARENTS: Please take a moment to help us make the best technology decisions at BSMS by completing this survey. This is an anonymous survey. Your answers are very important to us as we seek to choose the best technology for our students. Click the link below:
http://www.bbyt.es/K37HP

Good Afternoon BSMS Parents: MAAP Testing Spirit Week is April 19-22! Students must participate in the designated spirit day to dress out of uniform. Any student out of uniform without appropriate attire for the spirit days, will have automatic ISS. Please remember no skin should be seen underneath jeans. Skirts should be the appropriate length. No tank tops/spaghetti straps. No slides. No biker shorts. No bodysuits. No leggings without the appropriate length shirt for coverage. Thank you for your cooperation in this matter.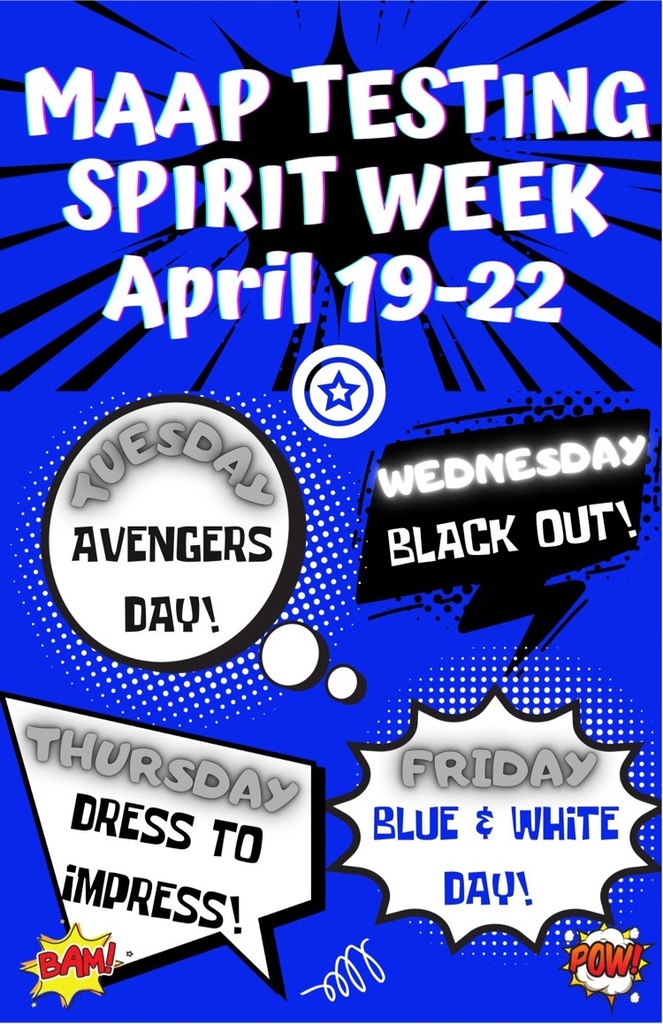 ATTN BSMS PARENTS: We will have our monthly F.A.C.E. meeting on Tuesday, April 12, 2022, in the Shivers cafeteria. Atiya Henley, a young MS author, will share her book about bullying. Please join us at 5:30 p.m. as we explore "The Mean Girls "book.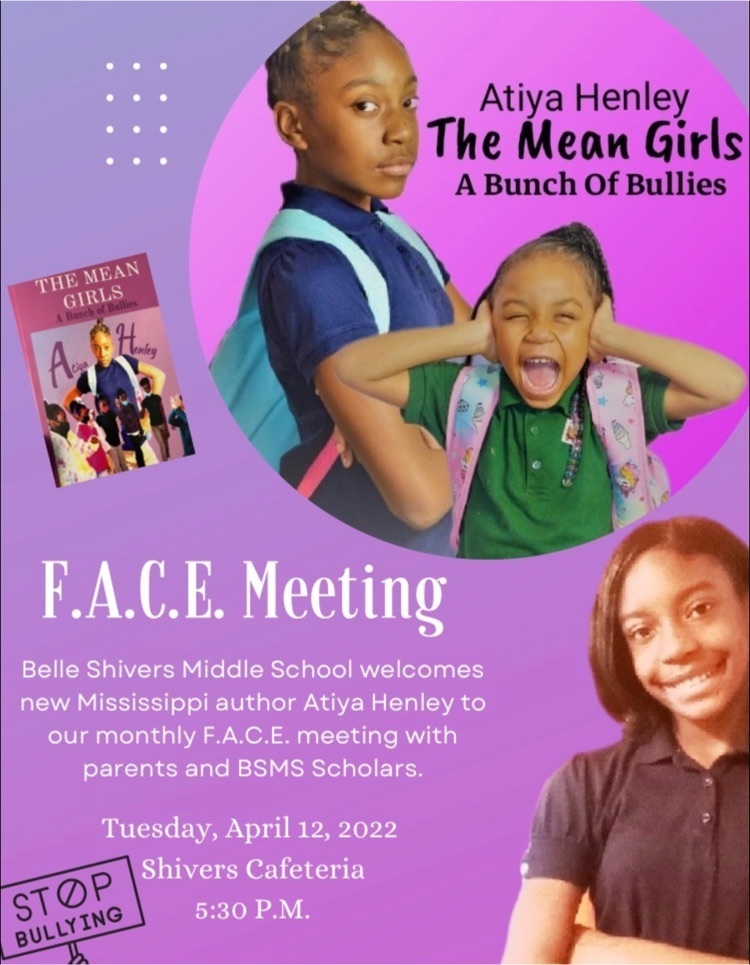 ATTN BSMS PARENTS: Students will have the opportunity to take school pictures on Wednesday, April 13th. Students who plan to take school pictures are allowed to dress out of uniform. *Appropriate clothing is required.* Students who do not plan to take pictures must be in uniform. Thank you.
Good Afternoon, BSMS Parents: Students are bringing Splat guns to school. These are prohibited devices on BSMS campus. Please help us enhance student safety by ensuring that your child does not bring a Splat gun to school. Students who are in possession of this device will receive three days of in school detention; students who use a Splat gun on campus will receive three days out of school suspension. Thank you for your cooperation in this matter.

ATTN BSMS PARENTS: Due to the threat of severe weather, BSMS will begin dismissal at 12:40 p.m. Please adhere to the following tentative dismissal times: 4th - 6th Car riders and walkers - 12:40 p.m. 4th- 6th Bus riders- 12:45 p.m. 7th & 8th Car riders and walkers- 12:48 p.m. 7th & 8th Bus Riders- 12:50 p.m.